---
TRANSCLOUD, THE LOCAL WORD translation cloud
A complete set of free tools to cover all your translation needs
---
Manage your professional translation projects easily with our tool suite
According to CSA Research's 15th annual comprehensive study of the global language service and technology industry, the language services market is growing year on year, and is expected to grow even further, by 6.62%, between 2018 and 2019.
This indicates that businesses are producing more and more content. The need for efficient procedures to manage multilingual text has never been greater: the risk of not addressing this issue means that quality, consistency and delivery time may soon be affected in a way that could damage your corporate image.
Why use TransCloud?
It's an efficient, flexible, reliable way to improve your business communications. By centralising your core terminology at SmartTerms, the platform saves you valuable time, which means your message can reach its target more quickly. TransCloud's capacity to handle any known file project makes it highly flexible and suitable for all kinds of digital content. Our highly reliable servers and free, fast-response support makes TransCloud a system you can rely on.
No licensing costs, no set-up charges, no customer lock-in. TransCloud is a FREE translation and localization management platform designed for communications professionals, from technical writers to digital content creators and marketing coordinators.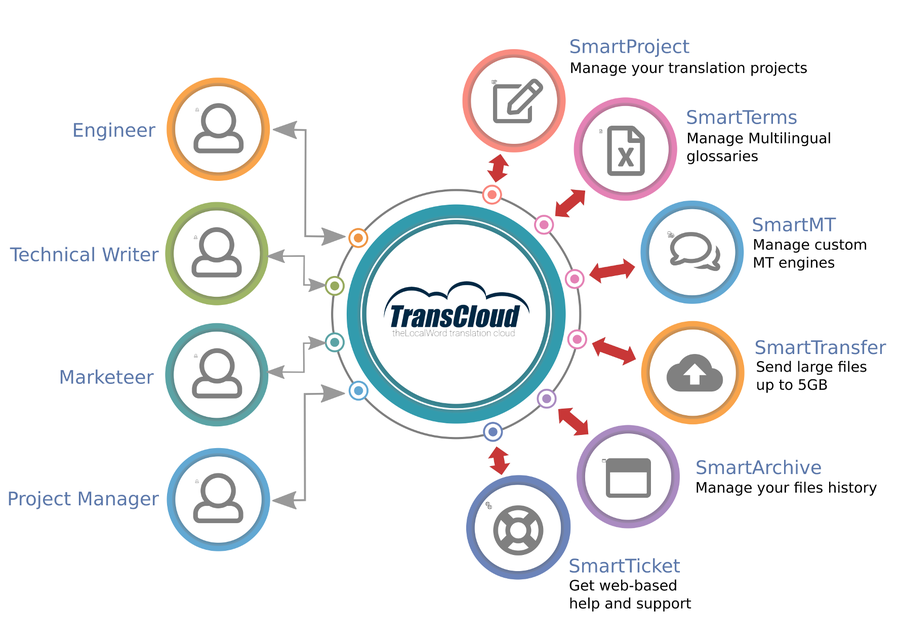 ---
CORE FEATURES
A complete package for complex translation projects
---
Fully-managed
Our free, cloud-based solution and project management guarantees a trouble-free translation workflow
Communication history
The full history of your project and all communications between your team and the PM are always visible on the project page.
Volume reports
Download translation volume reports for any period or language combination, and keep track of your translation memory size.
Unlimited uploads
Unrestricted uploading of files of up to 5GB.
Free Support
Using our free ticket system you can resolve translation, file conversion or invoicing issues as soon as they arise.
Terminology management
Create and update multilingual glossaries complete with images and descriptions, to ensure consistent communications in all channels, for all stakeholders.
Cloud reliability with 99.9% uptime
TransCloud's reliable high-performance servers ensure a very high level of availability.
MultiUser for large teams
Share and manage translation projects with multiple users.
Any known file format
You can upload any known file type for translation: our technical team will do the rest, returning the translated file in its original format.
MT Training
Once your translation memory reaches a certain size, you can train custom MTEs (machine translation engines) using your data.
10-year archive
TransCloud will store your translation files for 10 years, so you don't have to worry about losing them!
One-click quotes
Receive a quote with full details of wordcount, and place the job order with just one click.